How FetishGalaxy works:  As we do with all our cam site reviews, we are starting off our FetishGalaxy reviews with what we call a scam check and general safety observations. With FetishGalaxy this is what stood out.
FetishGalaxy, as you may imagine, offers webcam sex shows featuring specific fetishes. They belong to the ImLive and with that being said the quality is guaranteed. If you, like we, are a fetish connoisseur then you will notice from beginning that they experts on the fetish theme.
 FetishGalaxy Reviews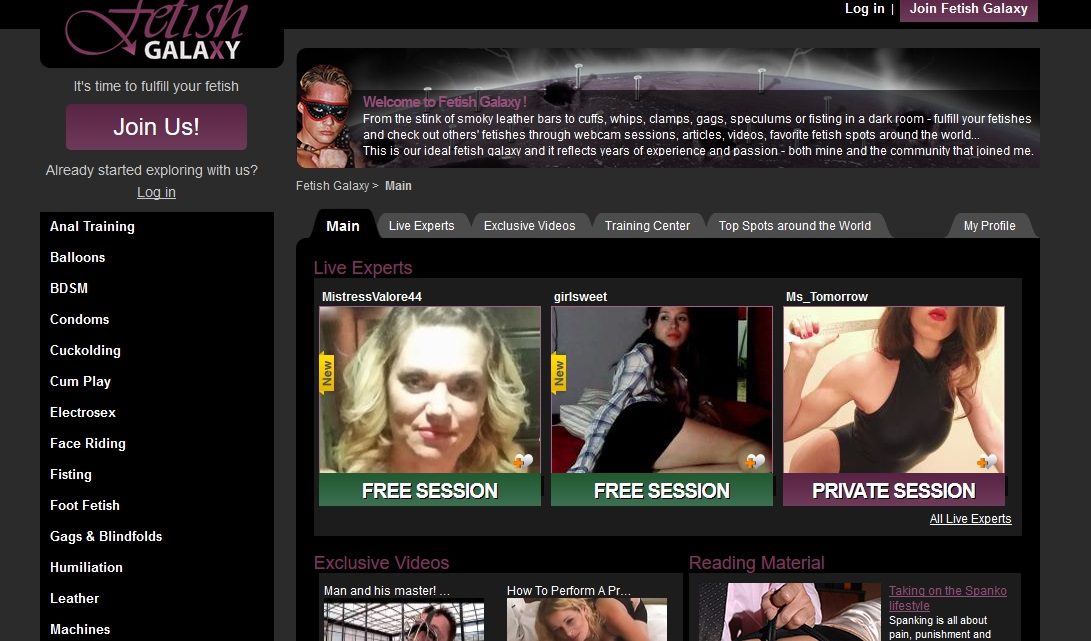 This specialized website will leave every non interesting webcam sex shows aside and only features high quality models who can deliver top level entertainment when it comes to fetishes. Performers here are called "experts" for some reason, right? So you can be sure that if you are a fetish lover, this is going to be your next most visited website of the entire Internet. Believe us, once you take a look you will understand these words.
How much FetishGalaxy costs:
Not many free cams are available, which is something understandable when you are visiting a specialized place, on other words, exclusivity must be paid. The best part of FetishGalaxy is that it works like a premium website but in terms of costs it is really reasonable. The lowest amount you can pay here is $0.88 / minute to watch public shows, where other paying members are also watching the model. Private shows start as $2 per minute and can go to $4. Besides shows you will also be able to buy videos from featuring some performers.
FetishGalaxy Features we liked most:
We liked all the functionalities of this website, but above all we loved all the variety when it comes to a different number of fetishes. Having the opportunity to have cam sex with truly dominates / submissives is one of many reasons that makes this a golden standard place.
Does FetishGalaxy Offer HD Adult Cams: Yes. On some. Still, for the others, quality is amazing.
FetishGalaxy Mobile Adult Webcams Show Quality / Video Stream Speed: Yes they have mobile support. Show's quality and streaming speed are fine.
Areas FetishGalaxy  can improve:
Nothing much to complain here, the only relevant thing is that they should offer some more free shows.
(h4) FetishGalaxy  reviews conclusion:
FetishGalaxy is a good place to visit if you are a lover of BDSM and fetishes in general, but also a good start point to the curious people who want to know more about fetishism. This high quality website has educational videos that can be purchased so people interested in this life style can become more informed. Plus that, they have community features like sending messages and socialize with other members. We see only good reasons for you to visit this adult webcam site, so take action and enter the FetishGalaxy.