If you have a thing for Asian chicks, then you might have stumbled onto AsianGirlCams.com. Today we are sharing what this Asian nude cam site has to offer and some other sites like AsianGirlCams.
Asiangirlcams is one such adult webcam chat that features Asian chicks getting naked and naughty. We tested this site, to compile a detailed review for you. To be blunt, we were not impressed with asiangirlcams.com, check our review, and decide for yourself.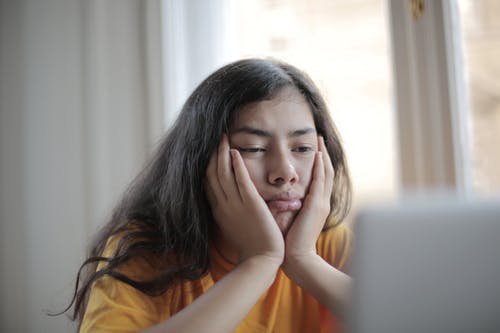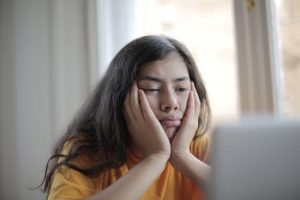 A Quick AsianGirlCams.com Review
Asiangirlcams claims to feature girls from different ethnicities like Filipinas, Thais, Japanese, and more but it is far from the truth. You will know this when you enter on the home page of asiangirlcams.com that looks so blah.
The site design is old fashioned with a sluggish interface. The fappers using this site are so busy beating their meat that they didn't even realize that asian cams you see are not original.
That's right, asiangirlcams is a scam and uses the cams from an entirely different site.
When you click on a cam, you are redirected to the landing page of asiancamsex, what a bummer.
To put it another way, asiangirlcams doesn't have asian girls of its own and uses the cams from asiancamsex.com.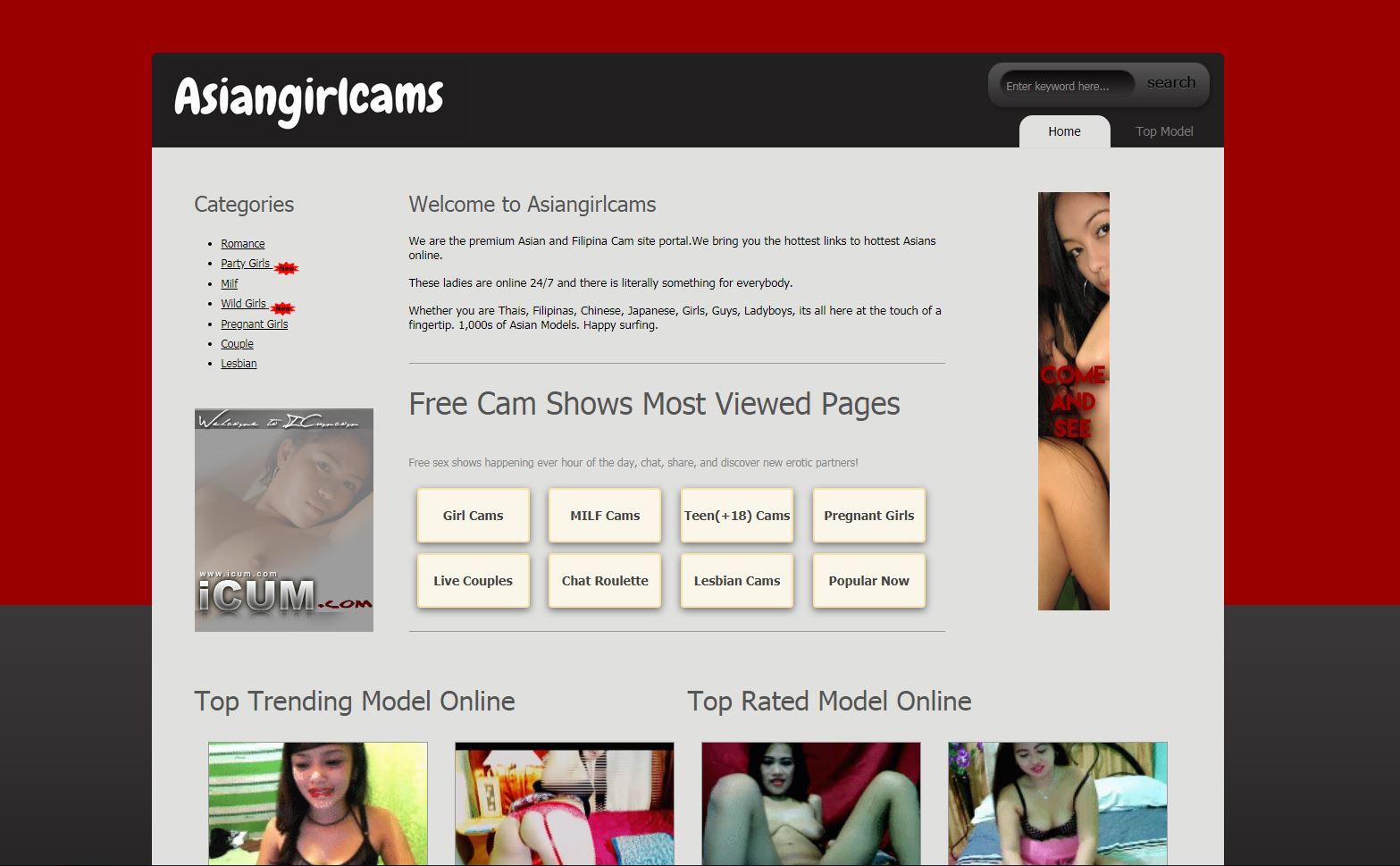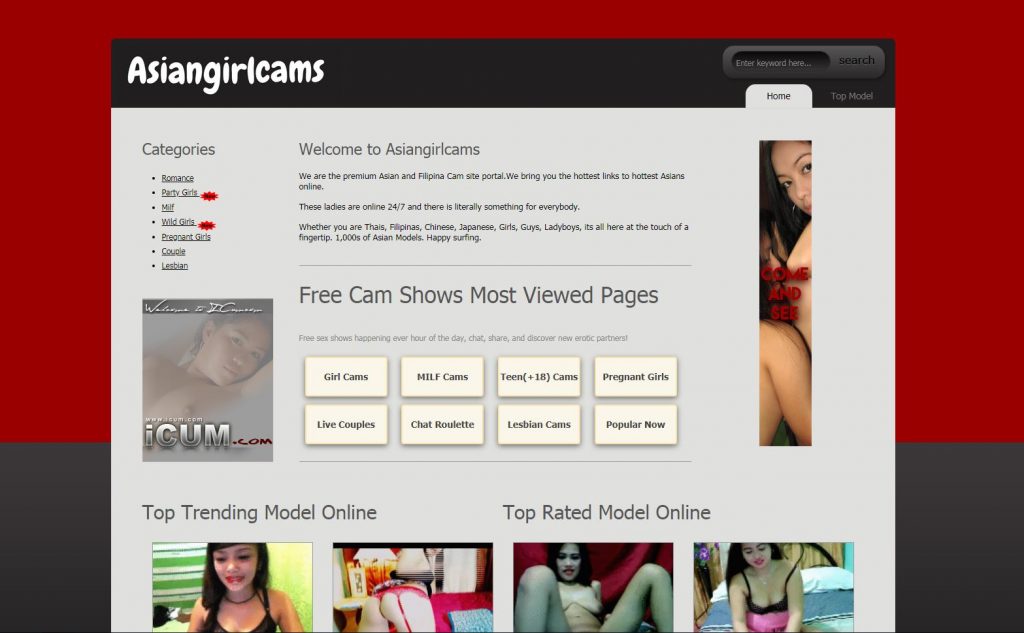 How much Asian Girls Cams costs:
Once you enter asian girl cams, you will be able to stay as a guest for one hour, just to play around and decide if this is the right place for you. Once you need more action you will have to spend some money. The average cost of a private show is about $1.00 per minute, although only a fool would pay for the awful performances on this bogus site.
You will just need to register, it is a fast process and with no annoying stuff, then you need to use your credit card / PayPal to get your goods! However, I assure you that it is a mere waste of time and money.
Asian Girls Cams Features: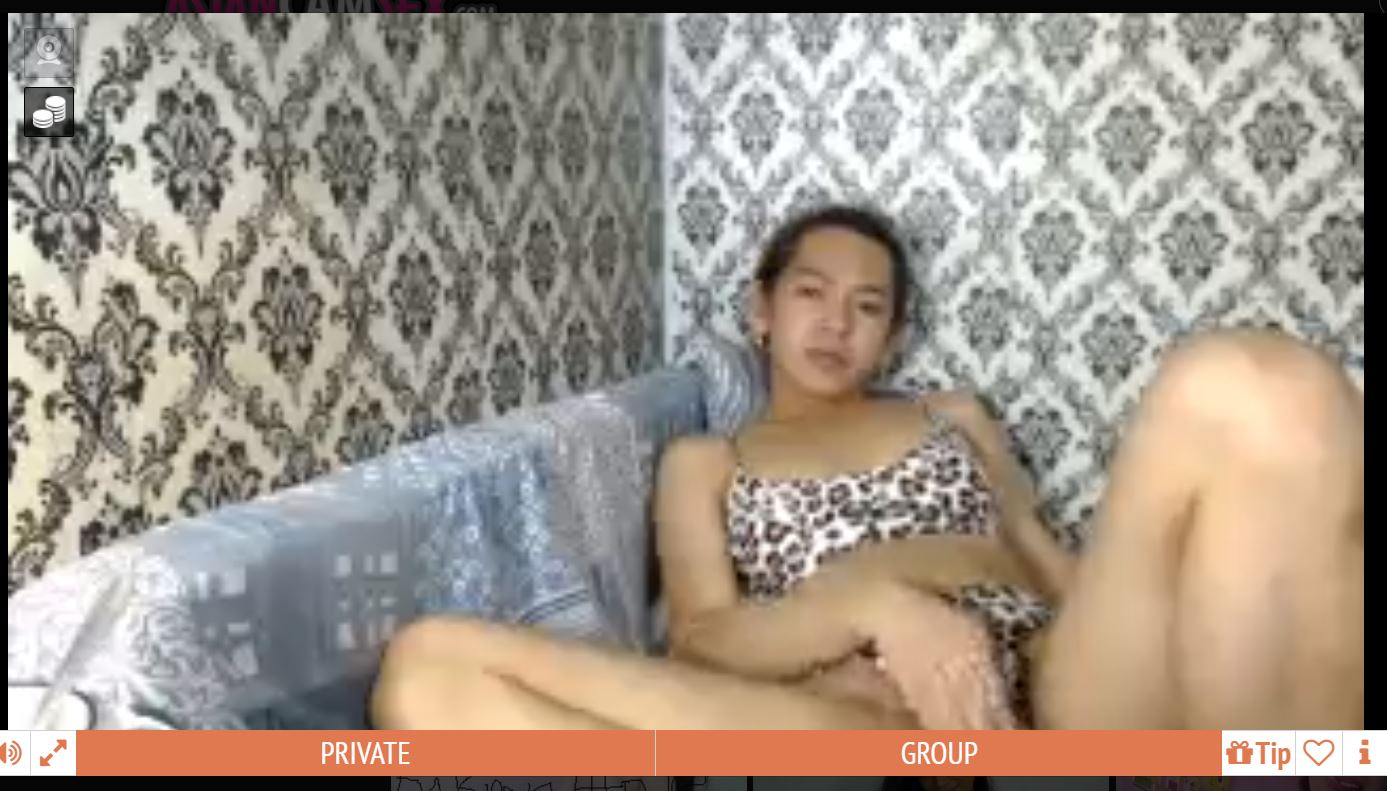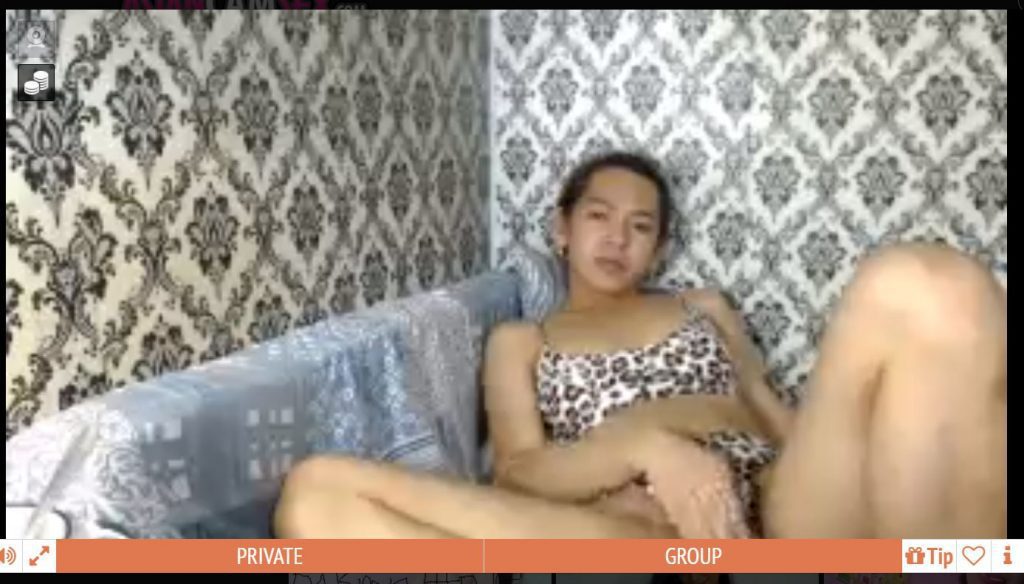 The following tabs are present on the homepage of asiangirlcams:
Categories: On the left, there are categories consisting of genres like romance, party girls, and milf. Once again, you are taken to asiancamsex on clicking on any of the categories.
Cam shows featured on asiangirlcams:
Girl cams
Milf cams
Teen(+18)
Pregnant girls

Live couples

Chat roulette

Lesbian cams

Popular now
On the bottom, you will find teasers of the top Asian cam girls which are nothing but poor quality cam shows from asiancamsex. What the fuck?
There's absolutely nothing you can find worth your time here. There a lot of annoying ads, but don't ever click on them as they might have malicious content.
A part of our cam site reviews is to warn you about the risks of clicking on unknown or dicey links. We want to ensure that you have a safe and fun camming experience, which is why we dig deep into the features of every cam site that we review.
Asian Girl Cams Findings & Site Summary:
You can't expect good Asian sex cams, as most of the videos are SD or even lower. The design of the layout is not trendy or deluxe, the girls are not very attractive in my opinion and that is the main concern for you, I believe! If you think you will find beautiful nude Asian women here, you are absolutely wrong.
What to expect from asian girl cams? A lousy site interface, less choice of attractive models, and loads of unresponsive pages.
PATHETIC!
Nonetheless, looking at the bright side, now you probably understand why we are against such hoax sites. We aim at informing people about the best places to find quality asian sex cams, which is why we recommend LiveSexAsian.com.
LiveSexAsian features absolutely stunning Asian girls who pretty much do all the sexually explicit stuff for you. SakuraLive.com has a great number of classy ladies who just love to do risque nude tease webcam shows. If you are a lucky man, you might even witness live squirting on cam that is really nut-busting to watch.
Why waste your time on a substandard cam site like asiangirlcams?
It is a duplicate site and offers zero value to the user, so without a second thought, we would skip this godawful site.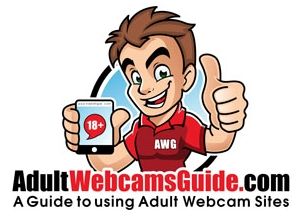 Greg Hines has studied cam2cam adult video chat sites and follows the latest cybersex trends. When it comes to where live porn and cam chat intersect Greg is your guy!